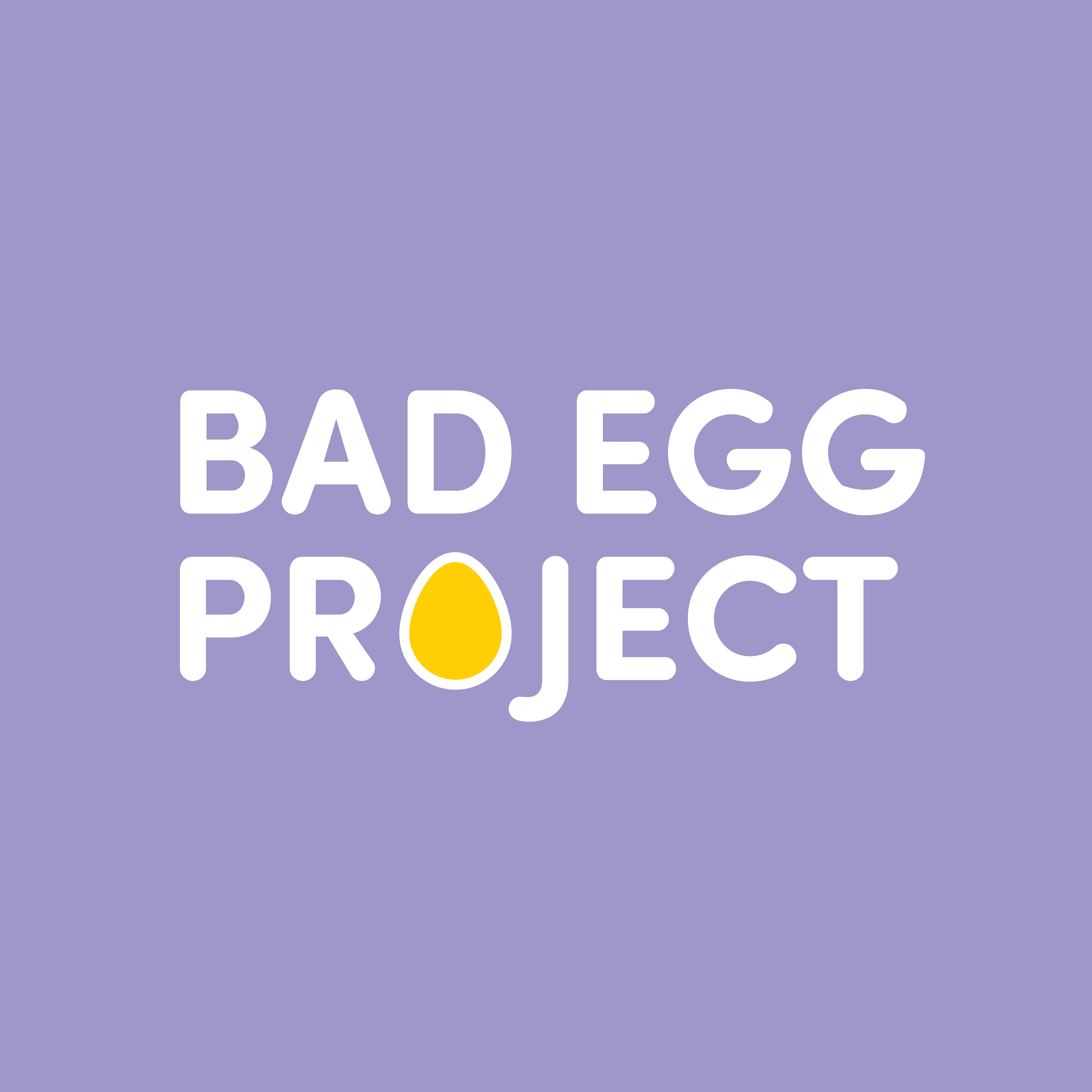 The Bad Egg Project
was the final outcome for an assignment to develop design strategy skills, it asked for a campaign to be created with current social issues taken into account. I chose to develop a campaign that aims to raise awareness and educate dating application users of the risks and how to safely use these apps. It targets dating app users between 18 and 28, both males and females.
The Bad Egg Project
uses an app, animated campaign videos, supporting print collateral and a website to encourage users to be safe whilst using online dating applications by not linking your social media accounts to your dating profile and if you choose to link your accounts to be conscious of what personal information you share through your posts on social media.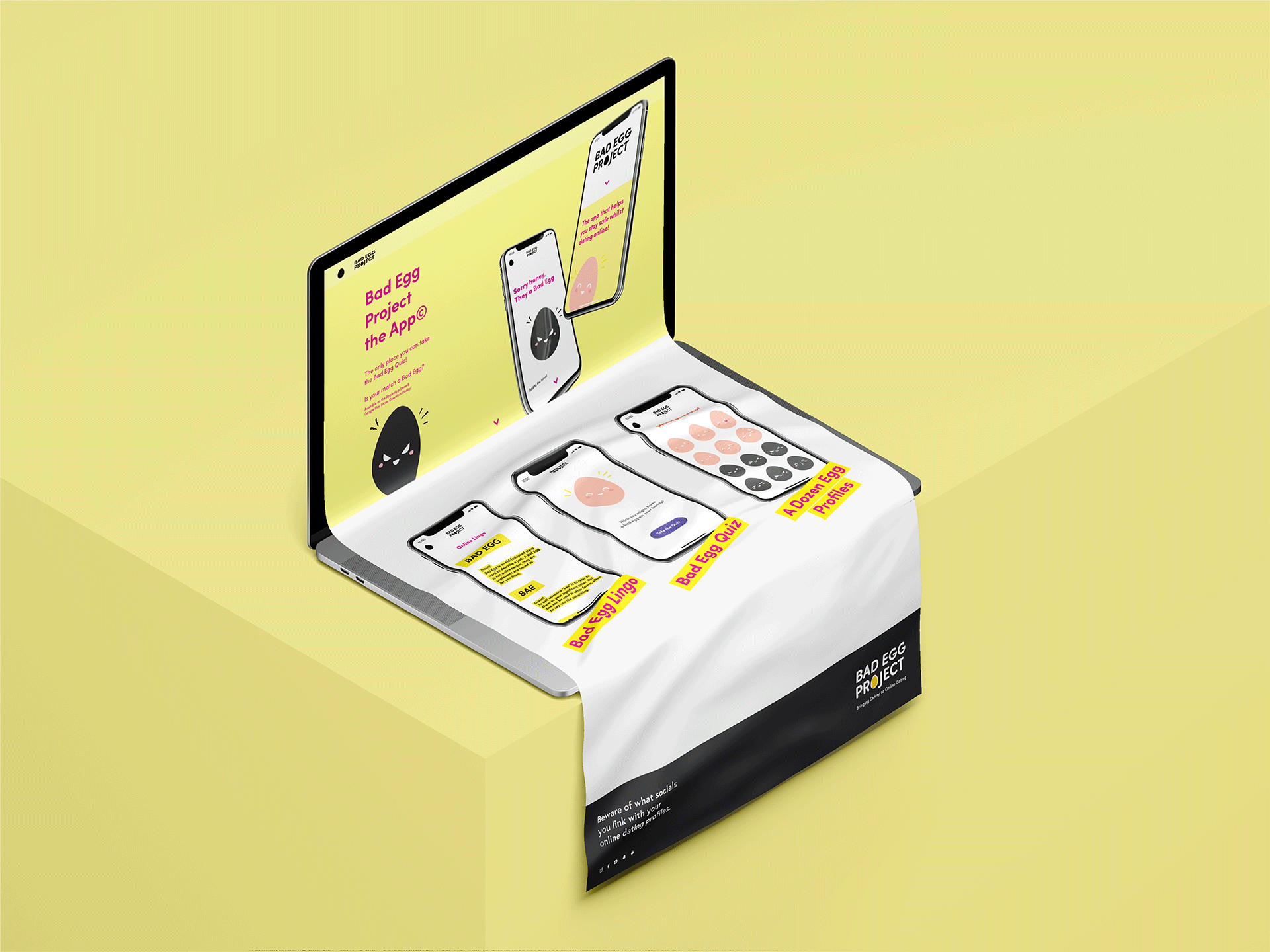 The challenges of this project were to deliver an end product that is non-binary, memorable and has a striking but restricted colour palette. This project was approached with a little bit of dark humour and cheekiness to bring lightheartedness to a somewhat serious topic. Making it easier to connect to the audience. 
The app allows the user to weed out the bad eggs in their life using the
bad egg quiz
and interacting with the campaigns cute and cheeky eggs. Through user testing and persona feedback the campaign was strengthened and refined with research to ensure the strategy, if implemented, would be the strongest concept.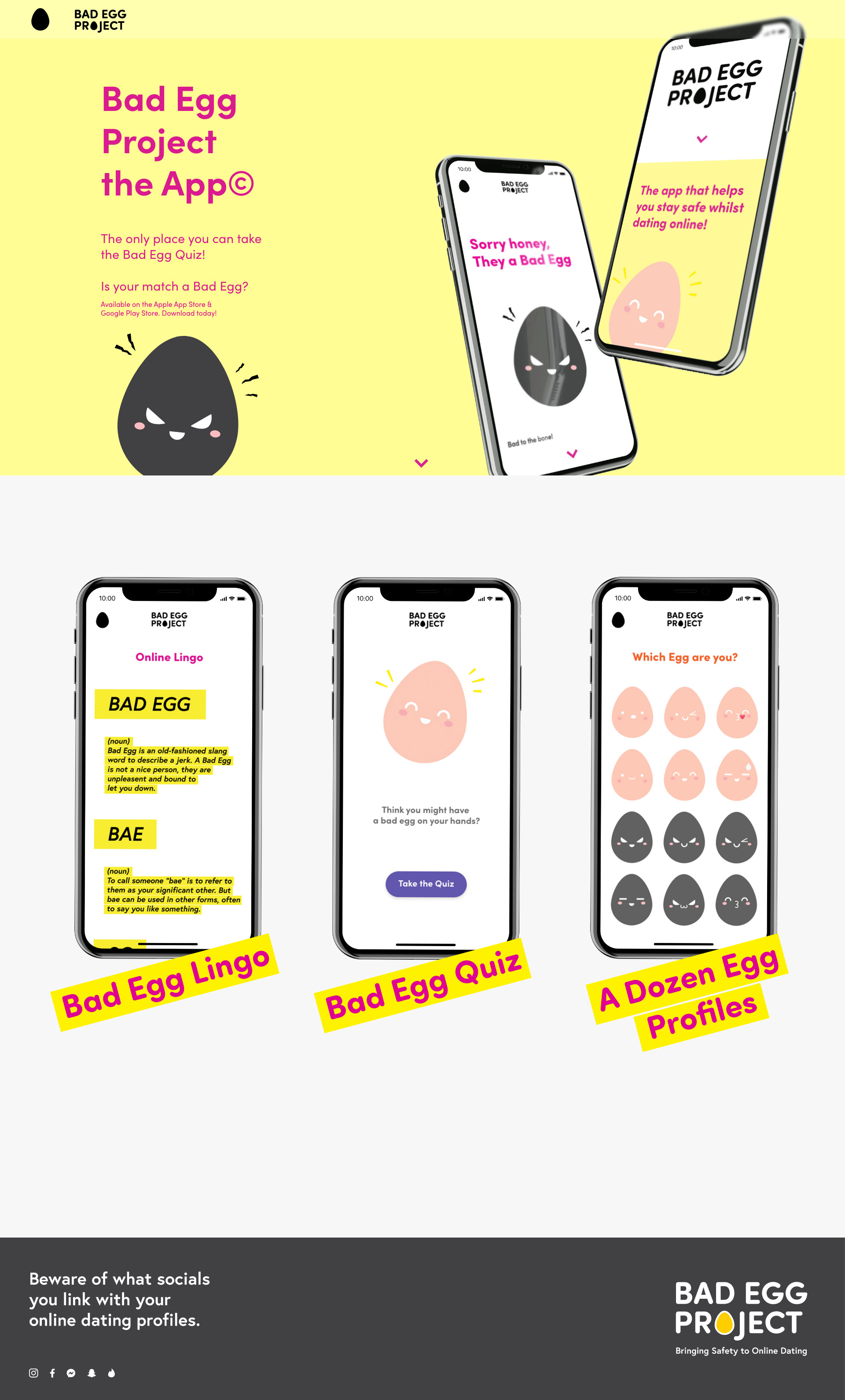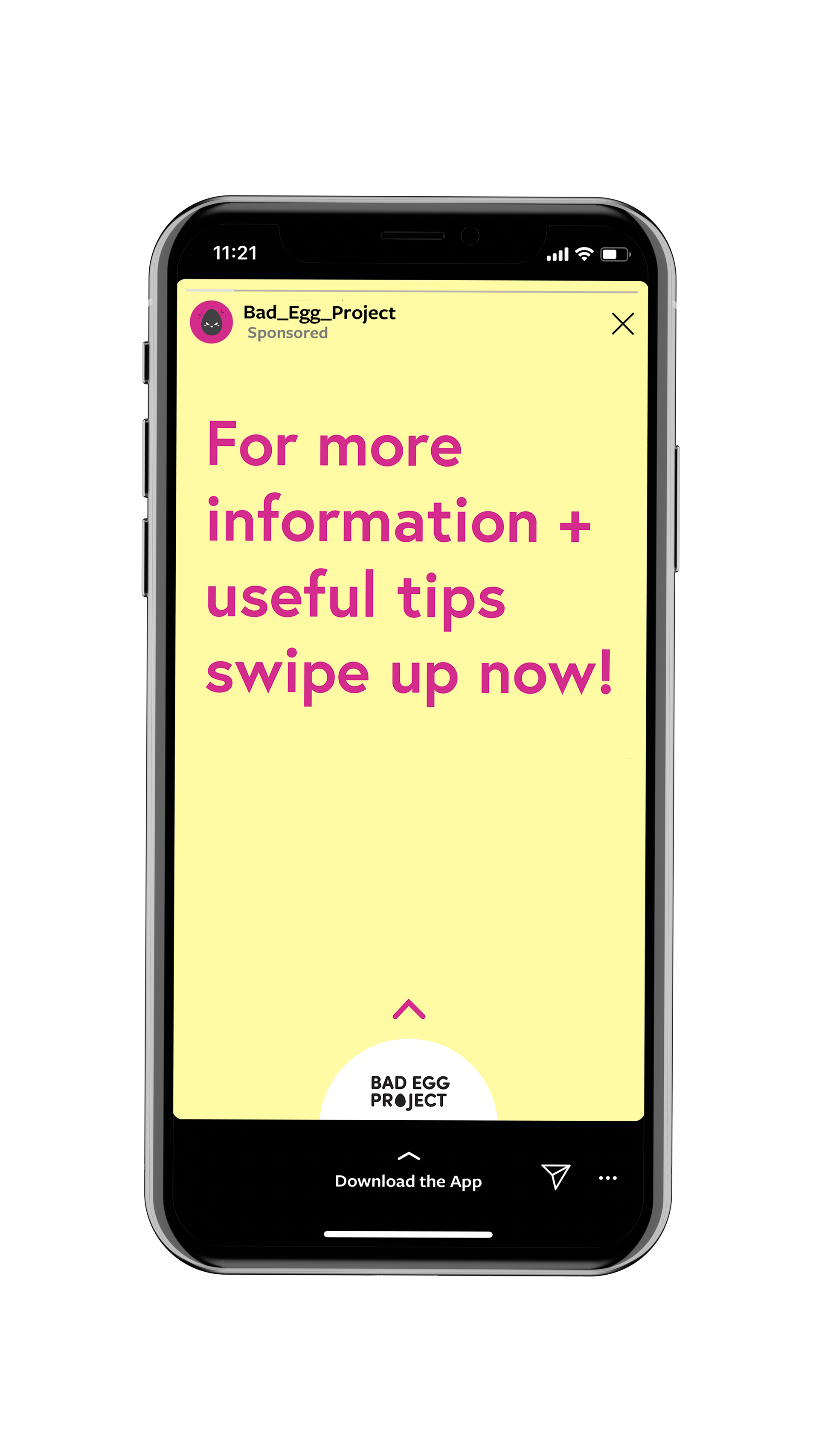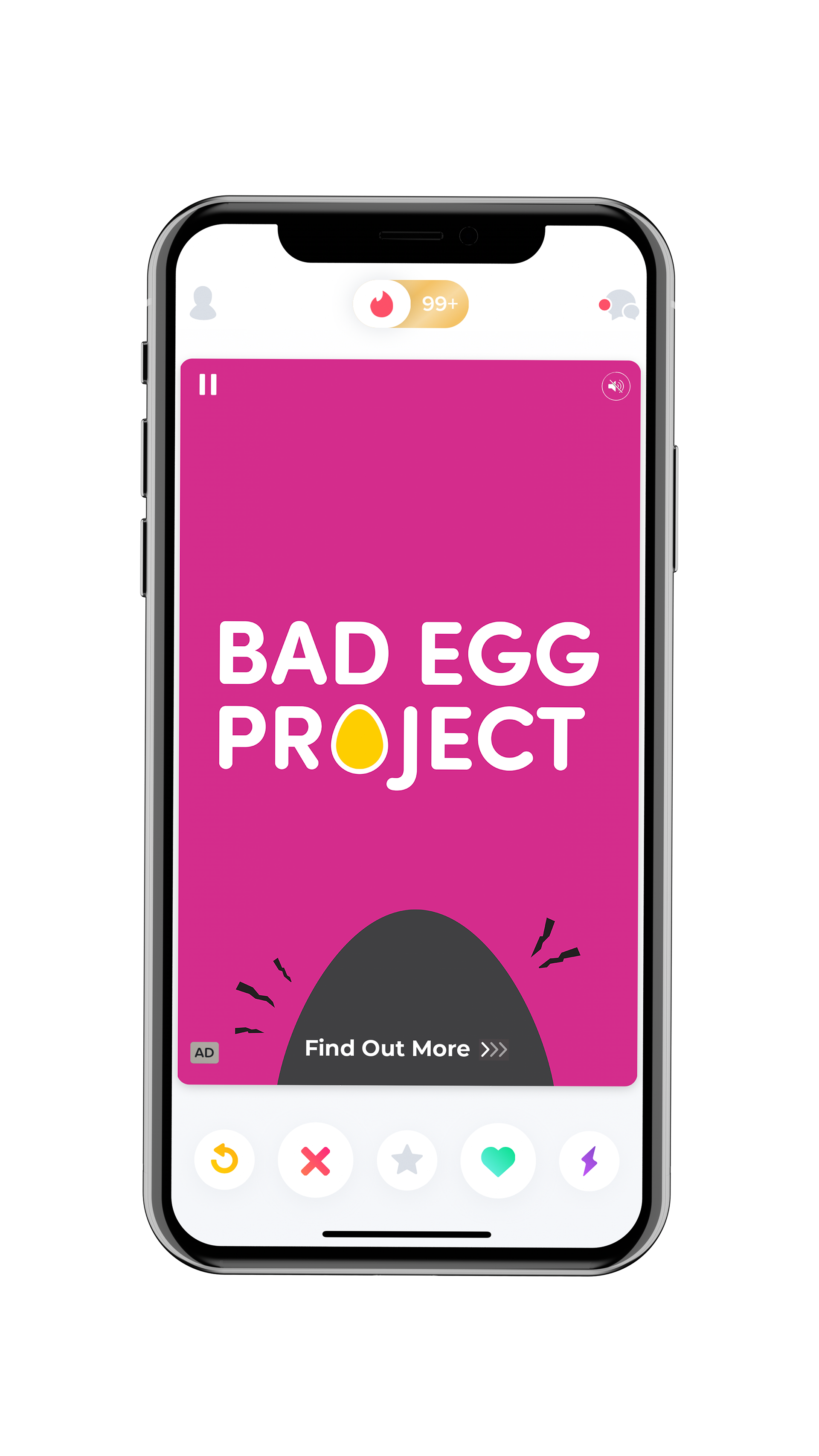 Animated Campaign Videos
The animation to advertise the Bad Egg Project has two different versions, one for computer viewing, that you would see on the website, Youtube and Facebook, the second video has been designed to be viewed on a mobile, created with Snapchat and Instagram stories in mind as well as Tinder's commercial advertisement space, it is a perfect phone screen size. The mobile version is slightly more interactive, prompting the viewer to swipe up for more information which would lead them to the website, this is done with inspiration from Snapchat stories which now allows you to swipe up for an extended experience, allowing the project to better target their audience and trap their attention in the platforms they are connecting with.
Campaign Proposal Document
The entire project has been formatted into an elaborate proposal document that describes the design process and conceptual thinking behind the project. You can check this out for yourself below to see a comprehensive rationale behind the Bad Egg Project, as well as the small details that brought this entire project together.